Salar de Arizaro
Project Overview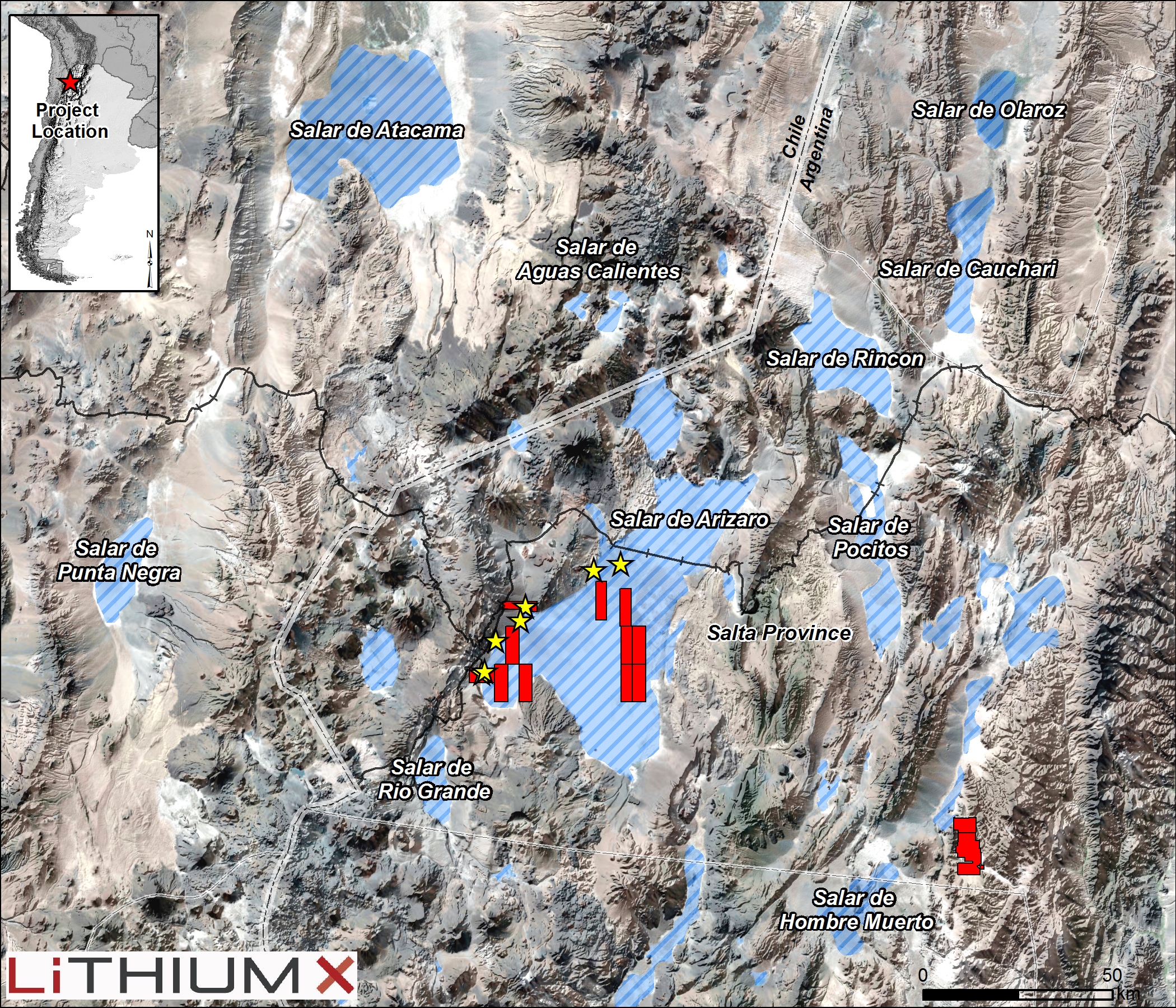 One of the world's largest salt lakes
Arizaro consists of 33,846 hectares covering parts of the western and eastern portions of the Salar de Arizaro, located in Salta Province, one of the largest known salt lakes in the world.  The Arizaro Project includes 11 mining claims covering approximately 33,846 hectares in area of excellent Puna infrastructure set to benefit from further development of adjacent large scale mining projects, such as Taca-Taca and Lindero. The salar is traversed by a highway and railroad that connect the Project to Chile and Pocitos, where natural gas and an Industrial Park are found.
Location & Infrastructure
The Arizaro salt lake covers approximately 197,000 hectares, making it the third largest in the world
One of the few major largely unexplored salars located within the "lithium triangle"
Located within 75 km of Pocitos, location of an industrial park and natural gas pipeline
Within 45 km of the Chile-Argentina border and 100 km from Sal de los Angeles project
The area is set to be the focus of near term infrastructure upgrades as a result of the development of Taca-Taca (First Quantum) and Lindero (Fortuna Silver)
Geology & Brine
The basin is composed of a predominantly halite core, similar to Hombre Muerto (FMC) , Rincon (Enirgi) and Atacama in Chile (SQM & Albermarle)
Many known large salars host geochemically different brines (Atacama)
LIX's Arizaro project conveniently covers two large portions of the salar, thought to offer different brine compositions
Historical sampling shows highly anomalous lithium and potassium values in brine down to 96 metres below surface
Other property owners in Arizaro include Eramet, Sentient and REMSA (Salta Government)
Historical sampling and values available from literature show the basin changes brine chemistry from east to west

Certain portions of the salar appear to possess geochemical ratios that could enhance the evaporation path of Sal de los Angeles brine

Brine mixing to reduce reagent use, enhance economics and increase recovery is commonly used in brine operations
Arizaro is an accretive acquisition for Lithium X, well priced under current market conditions, that has fantastic exploration upside.  It is one of the largest known salars in the world known to contain elevated lithium brine values that has gone largely unexplored. The possibility of combining brine products with Sal de los Angeles brine to enhance both flow sheets is very exciting, as it could mean a reduction in reagent use for brine treatment at Sal de los Angeles.

Executive Chairman
Interested in hearing more?