Vancouver, BC – Lithium X Energy Corp. (TSXV: LIX) (OTCQX: LIXXF) ("Lithium X" or the "Company") is pleased to announce it has successfully completed the consolidation of the Sal de los Angeles ("SDLA") project so that it now controls 100% of the mineral titles contained within the brine bearing regions of the Diablillos basin. The consolidation involved the acquisition of 2,700 hectares of claims from Borax Argentina S.A. ("Borax") replacing the the usufruct Lithium rights previously held by the Company over the Borax claims and an agreement to acquire a further 700 hectares currently owned by South American Salars S.A. ("SAS") for a total consideration of 650,000 common shares of Lithium X, USD $1,000,000 and a 1% Net Revenue Royalty (NRR) over the SDLA project.
Brian Paes-Braga, President & CEO remarks "The execution of these agreements, coupled with the earlier purchase of Aberdeen's portion of Potasio y Litio de Argentina, will ultimately give Lithium X one hundred percent ownership of the Diablillos basin. This significantly simplifies and de-risks potential future development of the salar."
Summary of Borax Argentina and South American Salars Agreement
Since Q3, 2016 Lithium X has been working on consolidating the brine bearing areas within the SDLA project by acquiring the remaining mineral claims held by Borax and SAS.  The Company  has successfully entered into agreements (the "Orocobre Agreements") with Borax, SAS and their parent company, Orocobre Limited ("Orocobre"), to acquire mineral title as opposed to the usufruct Lithium rights previously held by Lithium X over the Borax claims, and an agreement to acquire 100% of the rights to the SAS claims, subject to certain conditions, for aggregate consideration of US$1,000,000, 650,000 common shares and a 1% NRR over the SDLA project.  (Refer to Figure 1 :  Sal de los Angeles Project).
The Orocobre Agreements, entered into by Lithium X, its wholly-owned subsidiary, Potasio y Litio de Argentina S.A. ("PLASA"), Orocobre and its subsidiaries, Borax and SAS, provide for the following transactions:
PLASA acquires mineral title to the Borax claims, conceding a usufruct right in favour of Borax over the Borax claims in relation to the surface ulexite mineralization;
PLASA agrees to pay to Borax consideration of US$250,000 and to issue 650,000 common shares of Lithium X to Borax or its nominee;
PLASA to acquire the SAS claims for consideration of US$750,000 upon certain conditions being met by SAS; and
PLASA and Borax agree to cancel the existing 1.5% royalty on the Borax held tenements, in consideration of a 1% Net Revenue Royalty over the entire SDLA project; and
Orocobre and PLASA mutually release each other from any potential or existing claims due to past activities by either party.
The Orocobre Agreements result in Lithium X, through its subsidiary PLASA, being the sole owner of all mineral titles on the salar and covers the entirety of the known brine-bearing aquifers.  The Orocobre Agreements also include other provisions related to artesian brine management, which is the source of brine for the Initial Ponding Facility. The artesian brine will be captured, pumped and piped to the Initial Ponding Facility evaporation ponds where it will undergo evaporation-based metallurgical processing.
The Orocobre Agreements are subject to certain conditions including, but not limited to, receipt of all necessary approvals, including the approval of the TSX Venture Exchange.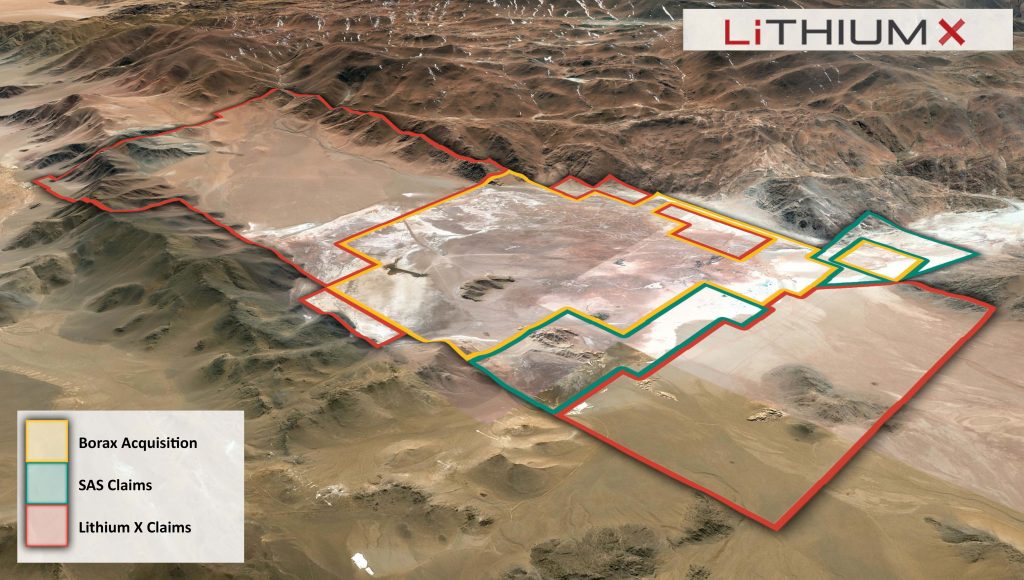 About Lithium X Energy Corp.
Lithium X Energy Corp. is a lithium exploration and development company with a goal of becoming a low-cost supplier for the burgeoning lithium battery industry.  The Company holds two projects in in the prolific "Lithium Triangle" in mining friendly Salta province, Argentina as well as participating in the Clayton Valley in Nevada through its ownership interest in Pure Energy Minerals Limited ("Pure Energy"). The Company's wholly-owned flagship project is the Sal de los Angeles lithium brine project.  Subject to the completion of the Orocobre Agreements, the project consists of 8,854 hectares covering 100% of Salar de Diablillos, and has a 43-101 mineral resource estimate of 1.037 million tonnes of lithium carbonate equivalent in the indicated category and 1.007 million tonnes of lithium carbonate equivalent in the inferred category.  The Company's second Argentinian project, the Arizaro lithium brine project, consists of 33,846 hectares covering part of the western and eastern portions of the Salar de Azario, one of the largest known salt lakes in the world.   In Nevada, the Company consolidated its Clayton Valley holdings with those held by Pure Energy, in the process becoming Pure Energy's largest shareholder, holding 19.9% of Pure Energy's outstanding common shares and share purchase warrants that, if exercised immediately, would increase its ownership interest to 22.5%. Pure Energy's combined holdings in Clayton Valley consist of more than 10,500 hectares (approximately 26,300 acres).
For additional information about Lithium X Energy Corp., please visit the Company's website at www.lithium-x.com or review the Company's documents filed on www.sedar.com.  Join the Company's email list at https://lithium-x.com/subscribe.
ON BEHALF OF THE BOARD OF DIRECTORS
Paul Matysek
Executive Chairman
FOR FURTHER INFORMATION PLEASE CONTACT:
Brian Paes-Braga

President and CEO, Director

Tel: 604-609-6113

Email: info@lithium-x.com

Investor Relations

Timothy McKenna

Toll Free (Canada & US): 1-888-760-5498

US: +1-732-331-6457

Email: tim@lithium-x.com
Neither the TSX Venture Exchange nor its Regulation Services Provider (as that term is defined in the policies of the TSX Venture Exchange) accepts responsibility for the adequacy or accuracy of this news release.
This news release contains certain forward-looking information and forward-looking statements within the meaning of applicable securities legislation (collectively "forward-looking statements"). Certain information contained herein constitutes "forward-looking information" under Canadian securities legislation. Generally, forward-looking information can be identified by the use of forward-looking terminology such as "expects", "believes", "aims to", "plans to" or "intends to" or variations of such words and phrases or statements that certain actions, events or results "will" occur. Such information includes, but is not limited to the use of proceeds from the Offering. Forward-looking statements are based on the opinions and estimates of management as of the date such statements are made and they are subject to known and unknown risks, uncertainties and other factors that may cause the actual results, level of activity, performance or achievements of the Company to be materially different from those expressed by such forward-looking statements or forward-looking information, including the business of the Company, the speculative nature of mineral exploration and development, fluctuating commodity prices, competitive risks, and delay, inability to complete a financing or failure to receive regulatory approvals. Although management of the Company has attempted to identify important factors that could cause actual results to differ materially from those contained in forward-looking statements or forward-looking information, there may be other factors that cause results not to be as anticipated, estimated or intended. There can be no assurance that such statements will prove to be accurate, as actual results and future events could differ materially from those anticipated in such statements. Accordingly, readers should not place undue reliance on forward-looking statements and forward looking information. The Company does not undertake to update any forward-looking statements or forward-looking information that are incorporated by reference herein, except as required by applicable securities laws.