Lithium X develops Sal de los Angeles lithium resource with all permits in good standing, and with no well blow-outs
September 25, 2017 – Vancouver, BC – Lithium X Energy Corp. (TSXV: LIX) (OTCQX: LIXXF) ("Lithium X" or the "Company") is pleased to announce the results of the recently completed drill program at its wholly owned Sal de los Angeles project, which covers 95% of the Salar de Diablillos, Salta province, Argentina. The drill program consisted of three exploratory diamond drill holes targeting undrilled portions of the basin north of the existing brine resource, and two sonic drill holes in known areas to enhance porosity and stratigraphic data.
Paul Matysek, Executive Chairman of the Board of Directors of Lithium X, commented "The positive results from our recently completed work program both expand the known brine areas to the north, past our current resource boundary, and confirm positive conditions for the establishment of a well field. Once all samples have been received we will have all the necessary information to complete a comprehensive dynamic model of the entire basin to support a feasibility study and reserve estimates. We are very pleased to have successfully demonstrated potential resource expansion and favourable well-field conditions."
Diamond drill holes DDD-08 to DDD-10
Three diamond drill holes were completed to bedrock depths covering the northern basin extension defined by the previously completed seismic survey. (Refer to Figure 1:  Sal de los Angeles Drill Program, which can be found on the Company's website at www.lithium-x.com).
DDD-09, drilled in the center of the northern basin extension intersected 564 mg/l Li over 179.5 metres starting at 84 metres below surface. The horizon is comprised of a single aquifer dominated by sands and gravels down to the basement interface at 244 metres, where highly fractured bedrock material hosts brine down to 263.5 metres. Brine sampling was conducted using drive point technology to ensure in-situ sampling and corroborated using a packer system.
Diamond drill holes DDD-08 and DDD-10 were drilled on the edges of the northern basin extension and intersected the same sand and gravel dominated aquifer. The drill holes intersected brine intervals of 400 mg/l over 7.5 metres and 581 mg/l over 68 metres. Average magnesium to lithium and sulphate to lithium ratios in the three drill holes range from 3.5 to 4.1 and 9.1 to 14.0 respectively, showing very similar brine characteristics to established resource brines. These drill holes successfully demonstrate brine continuity throughout the northern portion of the basin all the way to the basin margins.
Drill recoveries during the program ranged from 40% to 100%, showing a marked improvement over historical recoveries in the basin. 93 samples consisting of 15 cm intervals of drill core were collected and sent from Relative Brine Release Capacity ("RBRC") testing. RBRC testing provides valuable porosity data to help determine specific yield of the aquifer materials.
Sonic drill holes DSO-01 and DSO-02
Two sonic drill holes were completed within known resource limits. DSO-01 was drilled just north of the salar surface where the proposed well-field is contemplated. The hole was drilled to the rig's maximum depth of 179 metres, encountering brine from 47 metres below surface to the end of the hole. The 132 metres intersection averaged 571 mg/l Li with the bottom 54 metres averaging 637 mg/l Li. Magnesium to lithium and sulphate to lithium ratios averaged 3.5 and 9.6 respectively over the 132 metre brine column. DSO-01 intersected a single aquifer dominated by sands and gravels, lithologies typically possessing favourable pumping conditions.
DSO-02 was drilled in the southern portion of the basin, with the primary purpose of providing additional stratigraphic and porosity data in order to enhance the confidence level of this area, where a large portion of the inferred resource is located. Both sonic drill holes averaged over 87% recovery and a total of 76 samples were sent for RBRC testing. Final brine sample results for DSO-02 and all RBRC results have not been received by the Company. These additional results will be released as received by the Company.
Further to false rumours circulating, the Company can confirm that sustained artesian conditions resulting in well blow-outs were not encountered during this drill program nor during any other activities on the Project during Lithium X's ownership or control of SDLA.  All permits received in regards to the completed work programs (drilling, pumping tests, and seismic surveys) and the construction of the Initial Ponding Facility are in good standing and have not been revoked, suspended or in any way materially affected by any government agency or other authority. The Company continues to develop the Project in accordance with these permits.
The technical information contained in this news release has been reviewed and approved by William Randall, P.Geo, who is a Qualified Person as defined under NI 43-101.  As Vice-President Project Development of the Company, Mr. Randall is not considered independent. The drill program was jointly designed and supervised by the Company and FloSolutions Chile.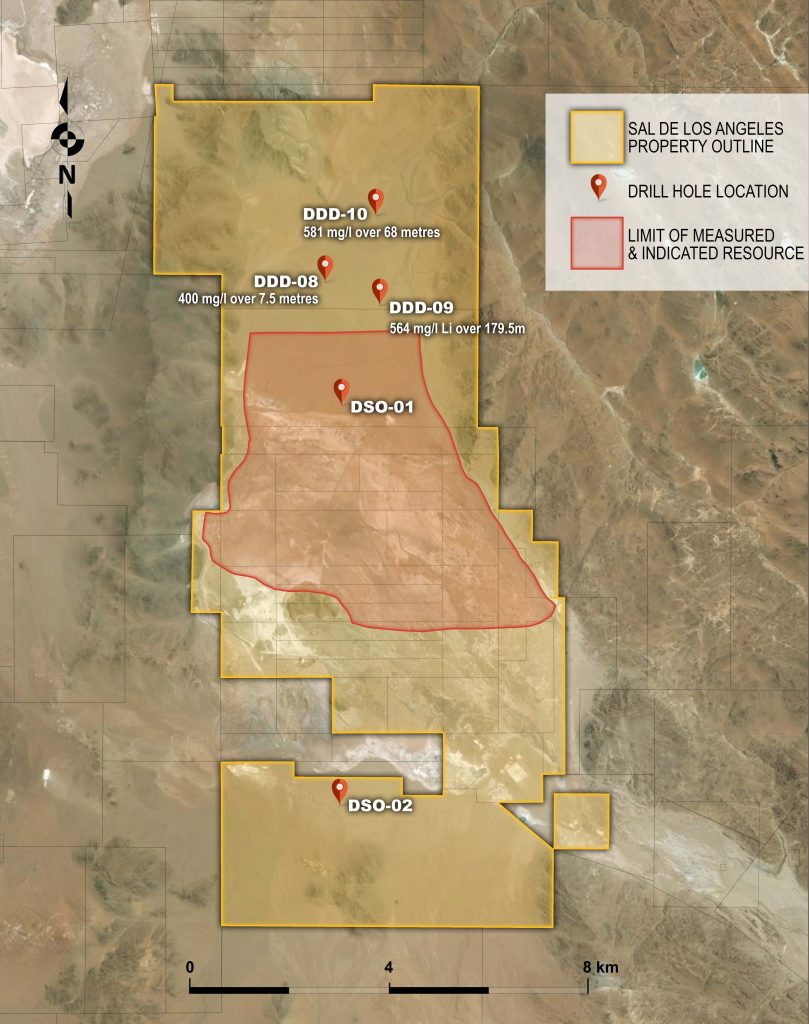 About Lithium X Energy Corp.
Lithium X Energy Corp. is a lithium exploration and development company with a goal of becoming a low-cost supplier for the burgeoning lithium battery industry.  The Company holds two projects in in the prolific "Lithium Triangle" in mining friendly Salta province, Argentina as well as participating in the Clayton Valley in Nevada through its ownership interest in Pure Energy Metals ("Pure Energy"). The Company's wholly-owned flagship project is the Sal de los Angeles lithium brine project.  The project consists of 8,154 hectares covering 95% of Salar de Diablillos, and has a 43-101 mineral resource estimate of 1.037 million tonnes of lithium carbonate equivalent in the indicated category and 1.007 million tonnes of lithium carbonate equivalent in the inferred category.  The Company's second Argentinian project, the Arizaro lithium brine project, consists of 33,846 hectares covering part of the western and eastern portions of the Salar de Azario, one of the largest known salt lakes in the world.   In Nevada, the Company consolidated its Clayton Valley holdings with those held by Pure Energy, in the process becoming Pure Energy's largest shareholder, holding 19.9% of Pure Energy's outstanding common shares and share purchase warrants that, if exercised immediately, would increase its ownership interest to 22.5%. Pure Energy's combined holdings in Clayton Valley consist of more than 10,500 hectares (approximately 26,300 acres).
For additional information about Lithium X Energy Corp., please visit the Company's website at www.lithium-x.com or review the Company's documents filed on www.sedar.com.  Join the Company's email list at https://lithium-x.com/subscribe.
ON BEHALF OF THE BOARD OF DIRECTORS
Paul Matysek
Executive Chairman 
FOR FURTHER INFORMATION PLEASE CONTACT:
Brian Paes-Braga

President and CEO, Director

Tel: 604-609-6113

Email:  info@lithium-x.com

Investor Relations

Timothy McKenna

Toll Free (Canada & US): 1-888-760-5498

US: +1-732-331-6457

Email: tim@lithium-x.com
Neither the TSX Venture Exchange nor its Regulation Services Provider (as that term is defined in the policies of the TSX Venture Exchange) accepts responsibility for the adequacy or accuracy of this news release.
This news release contains certain forward-looking information and forward-looking statements within the meaning of applicable securities legislation (collectively "forward-looking statements"). Certain information contained herein constitutes "forward-looking information" under Canadian securities legislation. Generally, forward-looking information can be identified by the use of forward-looking terminology such as "expects", "believes", "aims to", "plans to" or "intends to" or variations of such words and phrases or statements that certain actions, events or results "will" occur. Such information includes, but is not limited to the use of proceeds from the Offering. Forward-looking statements are based on the opinions and estimates of management as of the date such statements are made and they are subject to known and unknown risks, uncertainties and other factors that may cause the actual results, level of activity, performance or achievements of the Company to be materially different from those expressed by such forward-looking statements or forward-looking information, including the business of the Company, the speculative nature of mineral exploration and development, fluctuating commodity prices, competitive risks, and delay, inability to complete a financing or failure to receive regulatory approvals. Although management of the Company has attempted to identify important factors that could cause actual results to differ materially from those contained in forward-looking statements or forward-looking information, there may be other factors that cause results not to be as anticipated, estimated or intended. There can be no assurance that such statements will prove to be accurate, as actual results and future events could differ materially from those anticipated in such statements. Accordingly, readers should not place undue reliance on forward-looking statements and forward looking information. The Company does not undertake to update any forward-looking statements or forward-looking information that are incorporated by reference herein, except as required by applicable securities laws.